Article from Lincolnshire Life – Spring 1962
Sadly now closed but it's a nice memory of the work of Cheshire Foundation.
HAPPY family is a joy to behold . . . that thought sprang to mind when Lincolnshire Life dropped in for a visit to one of our County's happiest 'families" early this spring—the 29 handicapped people of Hovenden House, one of the Cheshire Foundation Homes for the Sick, near Spalding.
The Cheshire Homes—wonderfully conceived by air-ace Group Captain G. L. Cheshire, VC, DSO, DFC, are sited all over Britain. Hovenden House is a fine example of what Cheshire set out to do. make homes for the sick whose lives might otherwise become unbearable. It was given to the Cheshire
Foundation in 1957, the gift of the children of the late Mr. and Mrs. Arthur Worth in memory of their parents, well-known South Lincolnshire people.
During the last five years Hovenden House has become a real home for men and women, most of them Lincolnshire folk whose cheerful community life almost makes light of the handicaps under which they exist. Hovenden House is not a nursing home for the well-to-do. Each patient pays 46/- a week out of his or her sick benefit. This is made up to seven guineas by the state. But the cost of keeping each patient is £9 – 8 – 0 a week and the gap has to be filled by voluntary work, gifts and subscriptions.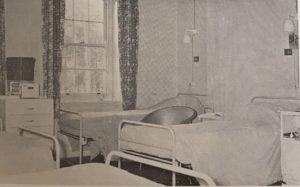 Not so very long ago an anonymous Lincolnshire man gave E 1,000. Spalding Rotarians installed a lift in the early days and the British Legion equipped a men's dormitory which is also maintained by them. Money is raised in many ways by a special committee formed from delegates of "The Friends of Hovenden " who come from all over the County.
Hovenden House lies in 4.25 acres of lovely parkland and now £4,600 is being spent on building an occupational therapy department overlooking it. This room – it will contain a cupboard altar for worship until a chapel can be built – has been designed to give the best possible working facilities for the patients. Basketwork, needlework, rug making and painting are only a few of the activities of the Hovenden folk whose creations are quite remarkable.
In this little community a shop is run by a patient to supply sweets and tobacco to her colleagues, and a bus given by a prominent British industrialist provides seaside and theatre outings. Hovenden House, with its pleasant rooms, its dedicated staff and most of all its courageous patients, has become in its five years a Lincolnshire centre for people whose complaints made it seem unlikely that they would ever lead any kind of community life again.